Sorry this Sunday Best is a day late. We had a crazy day yesterday and I was only home for a couple hours in the morning then we didn't get home till really late. We had a super fun day going to church and then hanging out with family. Now on to what I wore.



I wanted to go for an elegant edgy look. The beautiful purple I had in my hair a few weeks ago completely washed out and after redyeing it 2 times I decided to give up and had it dyed to a very dark blue black. I absolutely love the black I'm just a little sad my hair refused to be purple. Anyway my black hair has made me feel super edgy lately and I love embracing my dark side. About 9 years ago I went though a "punk" faze in my fashion life and it has been so fun having a feel of that edginess in my style lately.
I wore this long black maxi dress with from Ross (Have you noticed yet that I am obsessed with Ross).
I chose to wear minimal jewelry with this dress since it has such a beautiful pattern I didn't want to distract from it. So I wore some black earrings and a few bangle bracelets and that's it. Like a dork I took off my bracelets as soon as I got home from church and forgot to put them back on before I took these pics.
Here are the shoes I wore. These shoes are definitely in my top 10 favorite shoes! They are from Fergalicious by Fergie, I picked these bad boys up on clearance last year at Famous Footwear for $15!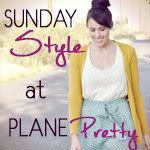 AND
Don't forget to stop by and enter my GIVEAWAY HERE!!